Deskera HRMS is a comprehensive, integrated human resources management system that facilitates management of the full range of HRMS functions and responsibilities. Here are the ways how Deskera HRM software makes payroll management effortless.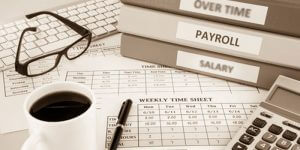 1. Offers Cost-Effective Solutions
Payroll management software controls the entire payroll system of an organization cost-effectively. Automated payroll system delivers work quickly and efficiently. It reduces the costs of performing various HR functions and there's no need to purchase or install costly equipment because the program is browser-based and hence can be accessed easily. Additionally, there's no need to hire any professional service.
2. Manages Employee Calendars
Payroll software makes account planning a lot easier. It helps the organizations to create easy to use employee calendars. Using it, the Deskera HRM can efficiently manage employee absence, sick leave and their overtime. The software also enables you to look at the following data,
How long employees are away from work.
What type of leave the employees are currently on?
How much leave they are entitled to.
3. Maintains Data Privacy and Security
Payroll management software has robust security standards. Keeping up with the IT security principle, in-house payroll management helps to maintain the confidentiality of employee data.It removes the risk of sending private employee information to a third party.
4. Provides Superior Customer Services
Installing a payroll software only is not enough, one needs to understand how such software is run. That is the reason why payroll software providers offer comprehensive support services to the users so that they can handle software issues with ease. Such software has features that tell how to deal with any aspect of payroll. This feature proves to be beneficial because the HR train several employees to use the software during vacations and sick seasons.
5. Offers Time-Saving Solutions
Businesses spend more than one-fourth of their time managing employment taxes. The process becomes even more complicated when there are other account factors involved such as vacation leaves or overtime management. A payroll software optimizes the entire process and saves a significant amount of time.